Suunto D6i Silver
Review by

Huck
Date:
Last updated:
My first dive computer, the Oceanic OCS, broke, after just eight months of use. As we were travelling, and with a big upcoming dive trip planned to Indonesia, there was no way of getting it fixed in time, and I really needed a dive computer for both free and SCUBA diving. So Kristaps bought me my second dive computer, the Suunto D6i Silver, as an early birthday present.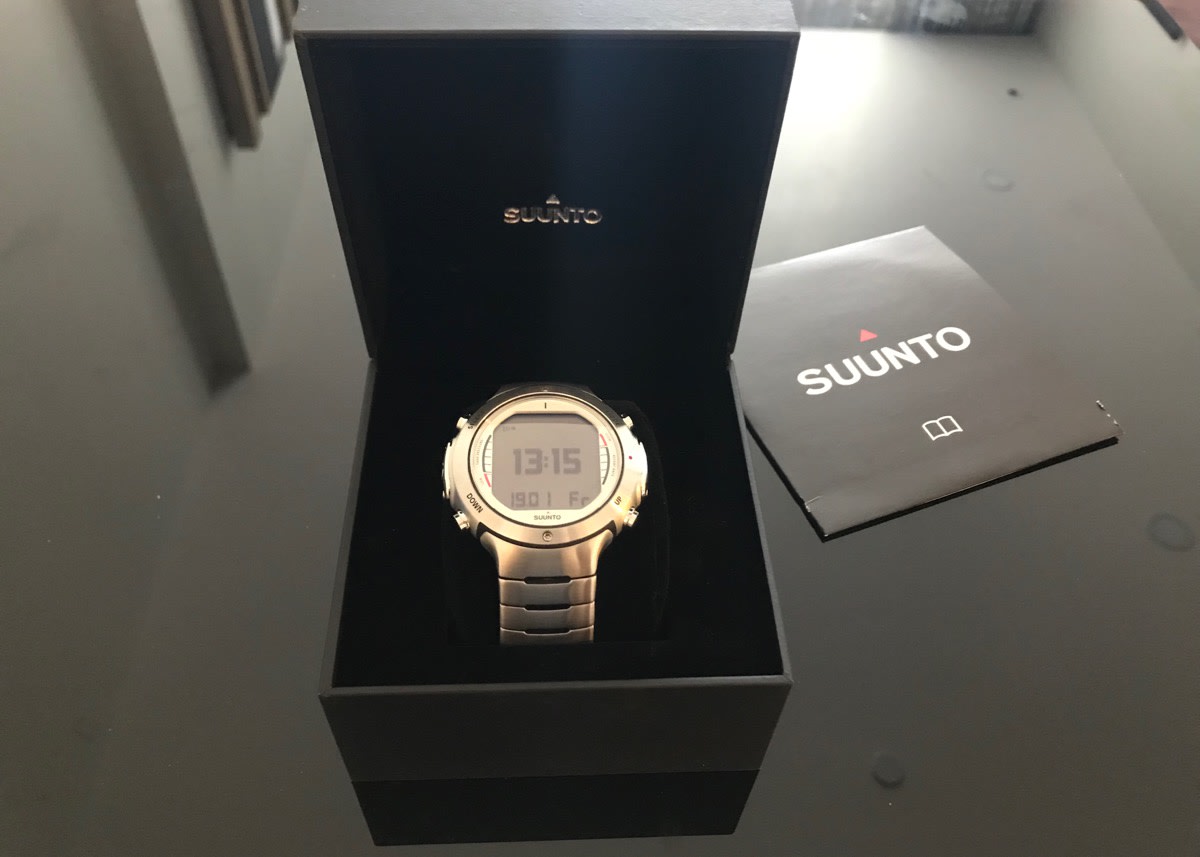 My brand new Suunto D6i, a present from Kristaps.
Why the Suunto D6i Silver? Kristaps already had the Suunto D6i and was very satisfied with it: it had a reliable apnoea mode as well as nitrox, deco-stops, and multi-gas handling etc., so could be used for both free and SCUBA diving. This was just what I needed. It was small enough to wear as an every-day wrist watch, which was why Kristaps got me the Silver edition, so it would look a little nicer for every-day use.
Look
The silver strap makes it look like a regular watch and not a dive computer, which is nice, if you're looking to wear it every day to work etc. as well as in the water. The overall design is very nice and sleek, without losing functionality.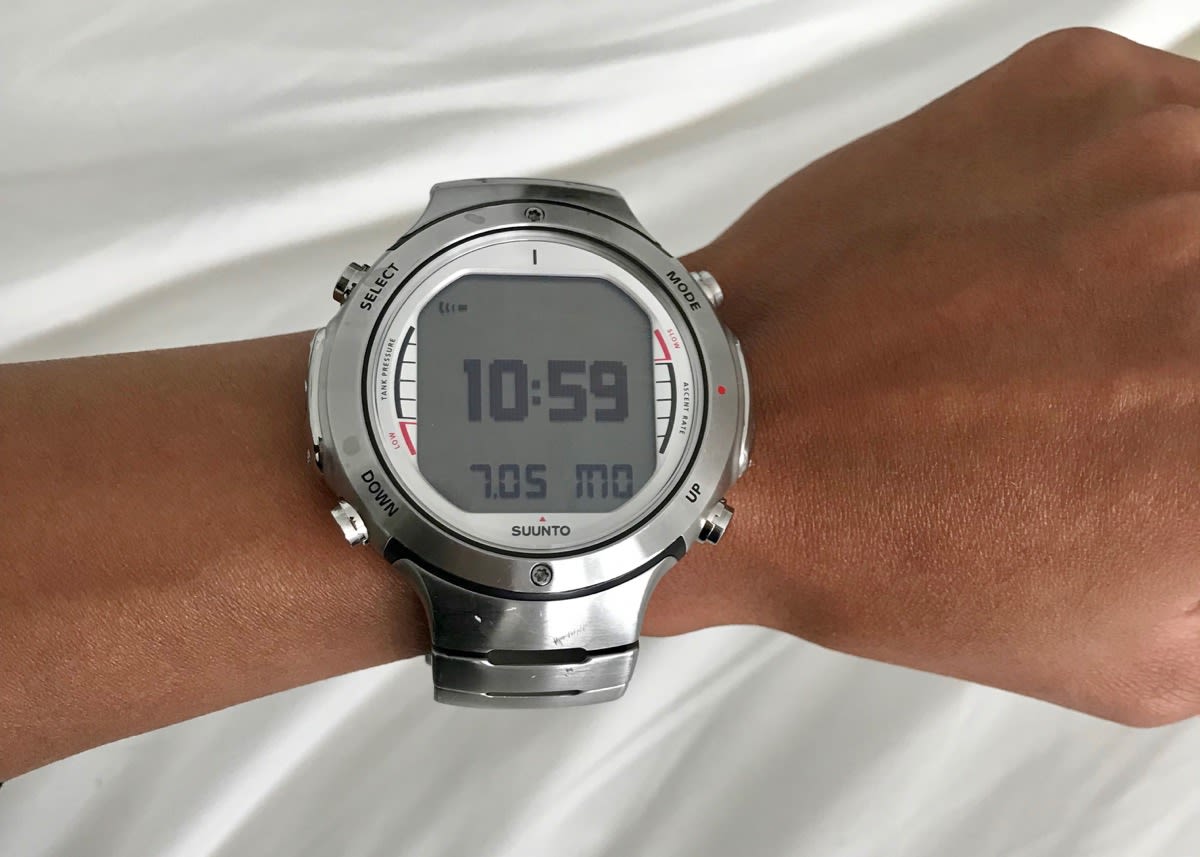 Proudly sporting my dive computer for every-day use.
Use
It's a very user-friendly dive-computer. The buttons are easy to push (easier than my last dive computer), the navigation is intuitive, and the display is easy to read. It's easy to set up and switch modes, even when wet. (Some dive computers don't let you switch modes once you've hit the water, very annoying.)
Freediving
This is the mode I use the most, and it shows me everything I need: surface interval, bottom time, depth, and if I cycle through the up/down buttons I get elapsed number of dives, water temperature, and current time. Very useful.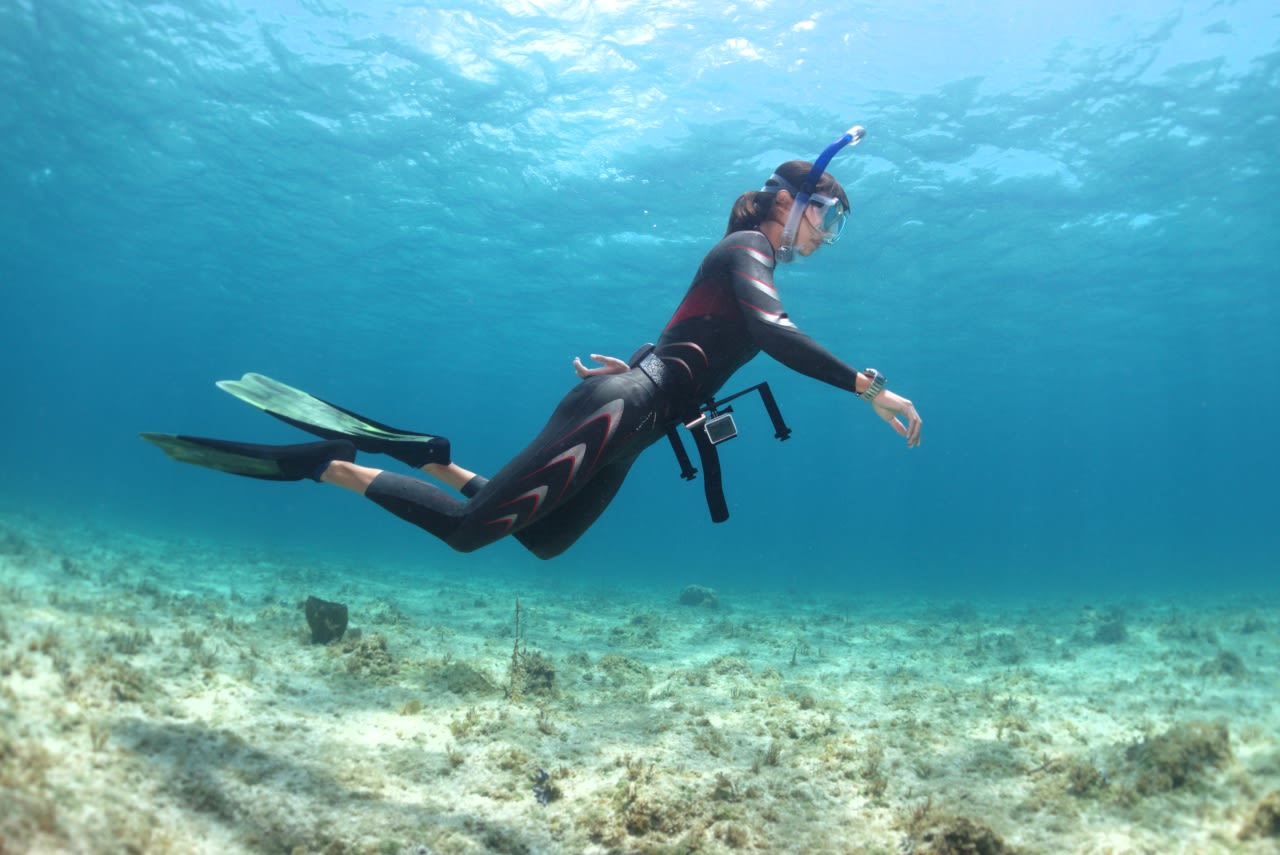 Checking my bottom time during a freedive in the Cayman Islands.
SCUBA
I've only ever used my dive computer for recreational diving, so I don't know how it handles deco stops or multiple gas mixtures. But for simple dives with air or nitrox it works beautifully. Again, easy to set up and shows everything I need on the display during my dive. (Although to be honest, I only ever really look at my dive computer when I need to do my safety stop.)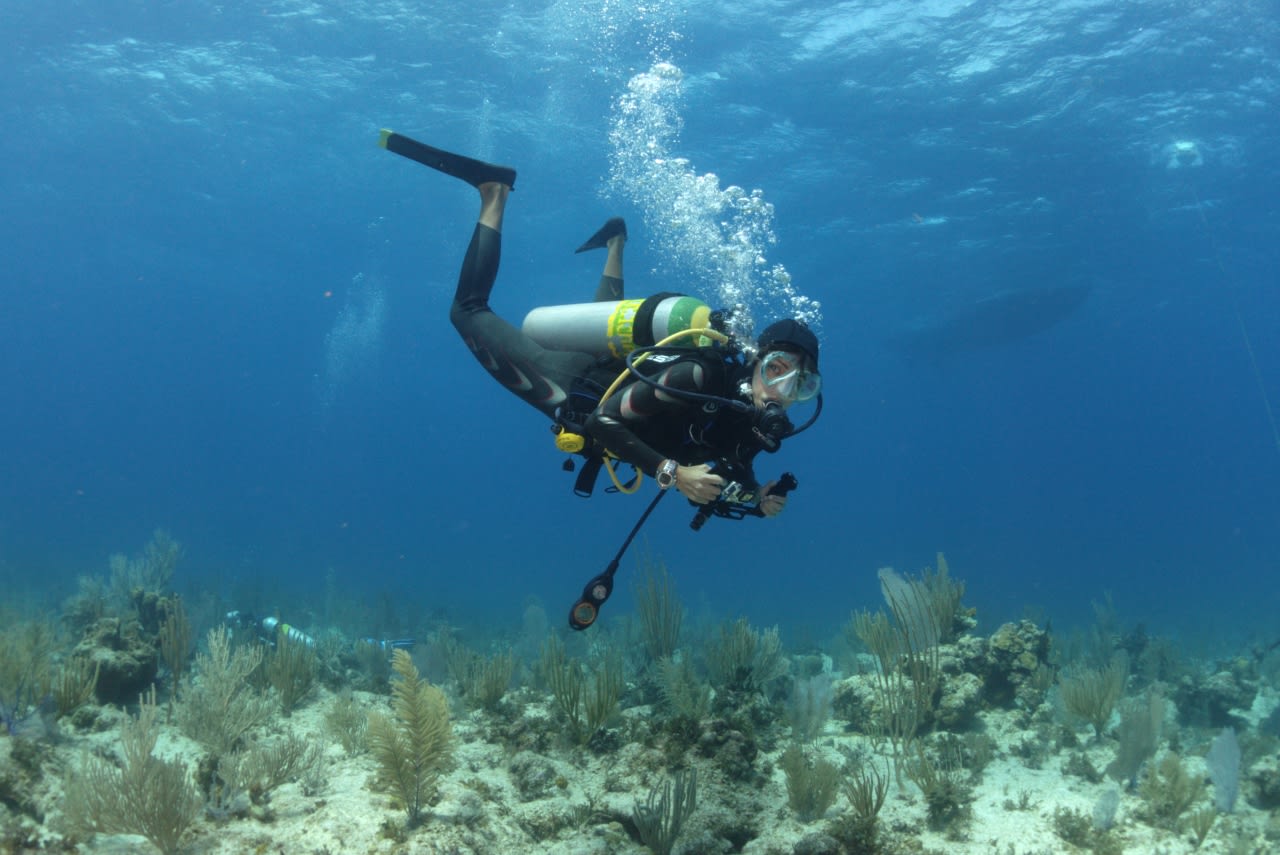 SCUBA diving with my dive computer with Nurse Sharks in the Cayman Islands.
Everyday
I wear my watch every day, to work, to the gym, etc. The only time I'll take it off is when I'm on my laptop sometimes because it's bulky on my wrist. It's served me very well for every-day use.
One of my best moments with the dive watch: snorkelling with sting rays, in-between diving and every-day use.
Pros
It has everything I need for a basic every-day watch and dive computer for free/SCUBA diving. It's easy to set up. intuitive to use, and and has a nice display.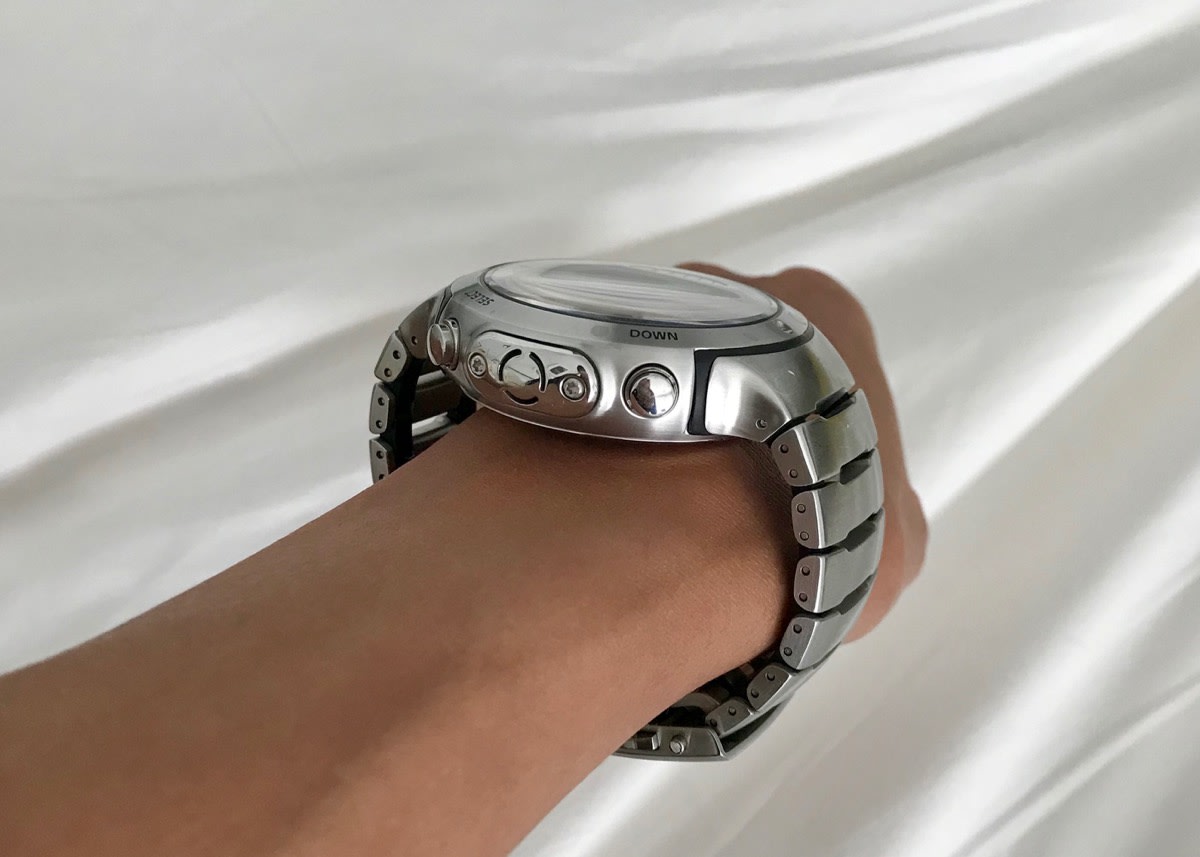 The Suunto D6i is quite heavy and bulky from the side, as shown on my wrist.
Cons
Large for a woman's wrist: Admittedly, it's a bit too large for my wrist. I had some of the links removed on the strap so that it would sit comfortably around my wrist but it still ended up looking too large on me. Nothing I can do about that.
Can't wear over a wetsuit: The only way to change the tightness of the watch strap is by removing/adding links to the strap, which can't be done on the fly. So it's impossible to go from wearing it on your wrist to wearing it over your wetsuit. I have to fold back the sleeve of my wetsuit so I can wear it on my wrist.
Scratches easily: A metal strap scratches much more easily than a rubber strap.
Expensive, relatively: The Suuntos are more expensive than the Oceanic OCS.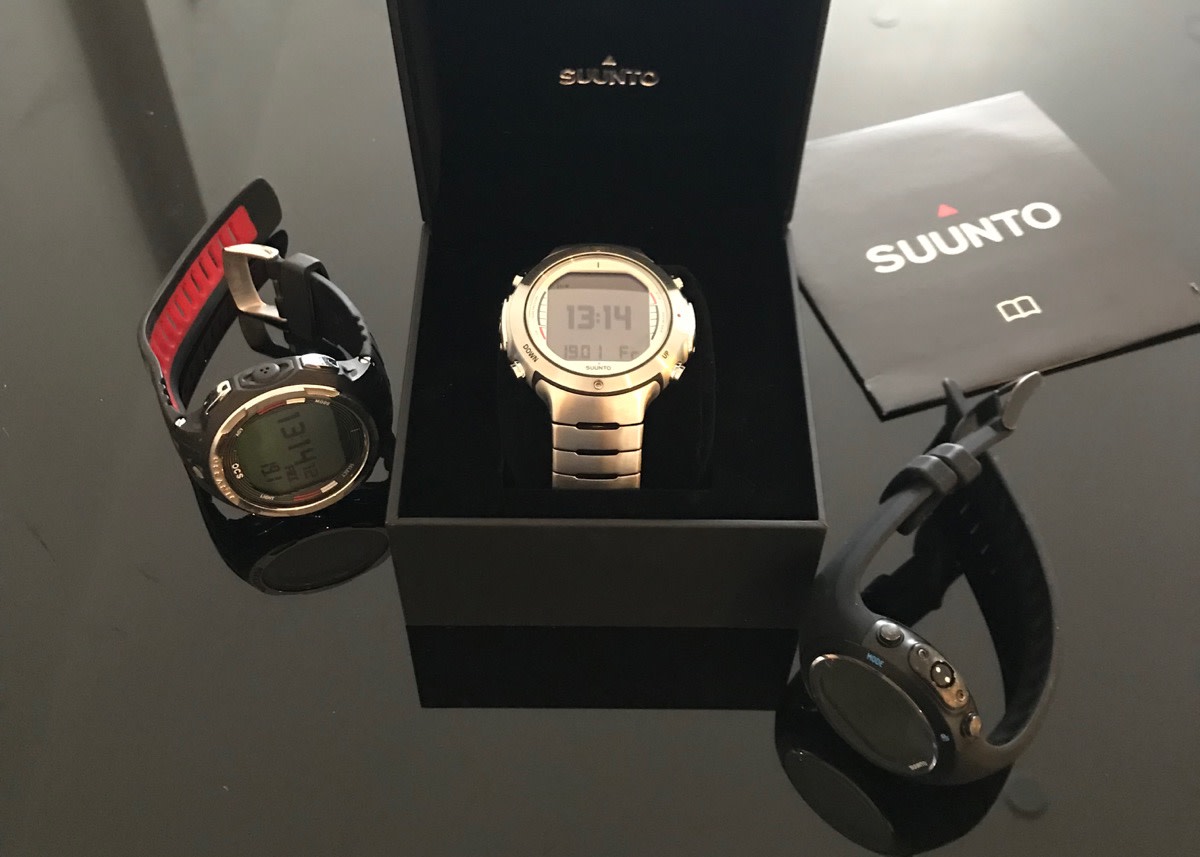 My first dive watch the Oceanic OCS, my new Suunto d6i Silver, and Kristaps' Suunto d6i.
Final Verdict
Overall, I'm happy with my dive computer and hope it will last me a while because right now, I see no reason to upgrade it.