Sony DSC-RX100M4
Kristaps
Our most careful purchase, and most costly to date, has been the Sony DSC-RX100M4. Fed up with the poor performance of the Nikon Coolpix AW130, we decided it was time to be a bit more professional. After a lot of soul-searching, we settled on the Sony and its Nauticam NA-RX100IV marine housing.
Long story short: this camera has completely changed our approach toward underwater photography. When I look back on our years of using point-and-click cameras (no aperture control, no RAW export), I cringe for the loss of so many high-quality photograph opportunities!
Free diving gear for St Elmo's Bay, Malta: fins, weights, mask, and camera.
When we dive with others, I'm always surprised at how small the camera is compared to fixed-lens counterparts. And with similar quality!
We've been using the Sony since arriving in Malta (winter, 2016) for all of our dives. Given that the conditions here (in winter) are quite poor to begin with, we've been pleasantly surprised at how well it operates in low-light conditions even in "auto" mode.
In Malta, dives are mostly fairly low-light and with a good bit of sediment in the water. I shoot most photographs in aperture mode or programme mode, both of which allow me to force open the aperture, which in turns increases shutter speed.
Taking jellyfish pictures in West Reef, Wied iz-Zurrieq, Malta.
In short, I'd rather have darker pictures—which are true to the conditions—than blurry with more light due to longer exposures.
Rigorously clean your camera housing after every dive. It's the most expensive part of your kit! Running it under warm water, click on every button a few times to discharge any built up salts. Dry it off—make sure that the lens isn't wet if you're air-drying, as it will water stain.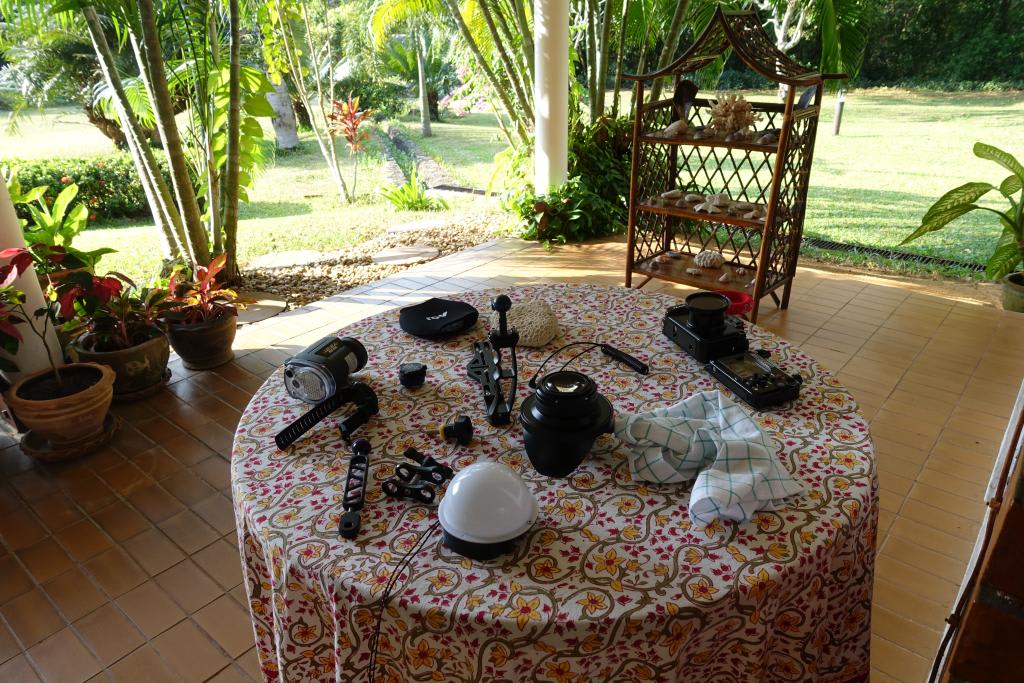 All (most?) of our still-photo camera gear to date.
Cons
The Sony lacks a GPS and (obviously) depth metre, which is unfortunate. It's also very expensive.
(If you're not looking to do video work, I've heard that the A6000 is a much cheaper version with the same non-video technology.)
I long bemoaned that it doesn't have a white-balance setting for underwater, but since moving to RAW editing all files, this isn't so much of an issue.
Pros
The marine casing makes it easy to use programme mode and adjust shutter speed whilst diving. All of the buttons and knobs of the camera are available on the casing. And still work after all these years!
I haven't tried other marine casings for this camera, but after several years of diving with it, no buttons are stuck, no floodings, and everything works like a charm.
Accessories
We have the vacuum pump accessory to the camera, which I consider of questionable utility, but is now part of our "process" of preparing the camera for diving.
We starting with purchasing a wet correctional dome port lens fitted to the Nauticam housing (67 mm): the Meikon wet dome port lens. This lightweight lens corrects for the refraction of water.
We since also acquired the AOI UWL-09 wide-angle lens. This fabulous piece of machinery is what we usually use in our photographs.
Lastly, we have a SEA&SEA YS-01 strobe on a tray. This, like the UWL-09, has required us to pay a lot more attention to the finer techniques of photography.