Oceanic OCS
Review by

Huck
Date:
Last updated:
A note of warning about this review: it's positively biased. Kristaps bought me this dive computer for my birthday present so although I will present all the pros and cons (and believe me, there were some cons involved in the purchase process), my feelings towards this dive computer are positively biased and it is with great pleasure that I admit this. (Thank you, Kristaps).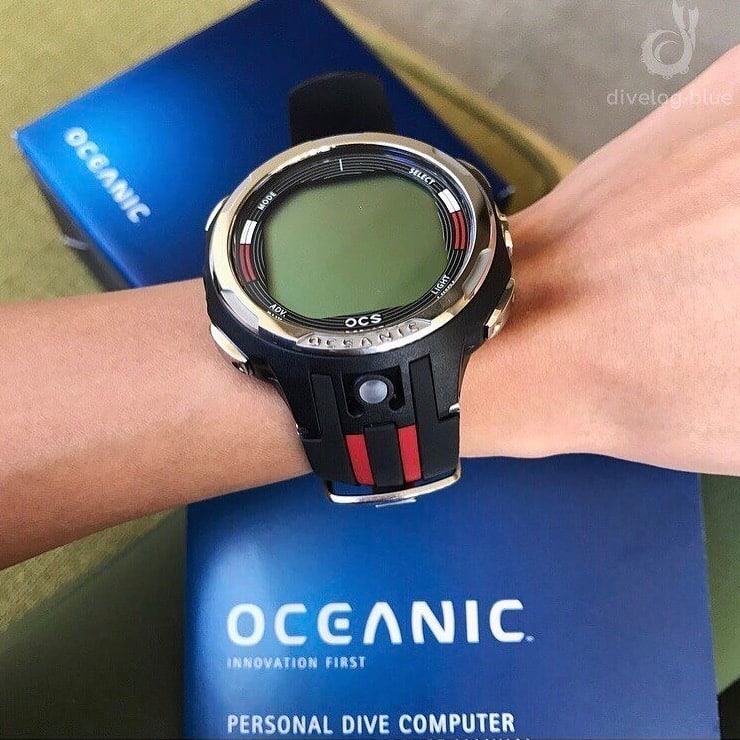 Newly-sporting the OCS on my right arm on my Birthday.
Why the Oceanic OCS? I needed a dive computer for freediving so the criteria was something with a reliable apnoea mode… then it was mostly just a question of price. But it also needed all of the basic dive computer facilities—nitrox handling, deco stops, multi-gas, etc. so that it could be used for SCUBA diving. (Interestingly, there were several apnoea-only dive computers on the market that were more expensive than the multi-mode dive computers… I wonder why?) Finally, it needed to be small enough to serve as a daily portable watch. The OSC offered all of this, and at a decent price compared to other dive computers given its capabilities.
Look
It's finished in black composite with stainless-steel trim, and comes with an interchangeable black/red stripped or fully black strap. You can wear it as an every day watch, it's even stylish, although a little big for my dainty wrists.
Comparison
At first glance the OCS looks similar to the OC1, minus the transmitter to your tank. Like the OC1, it can be switched between three different nitrox mixes during a dive and comes with a freediving and gauge mode.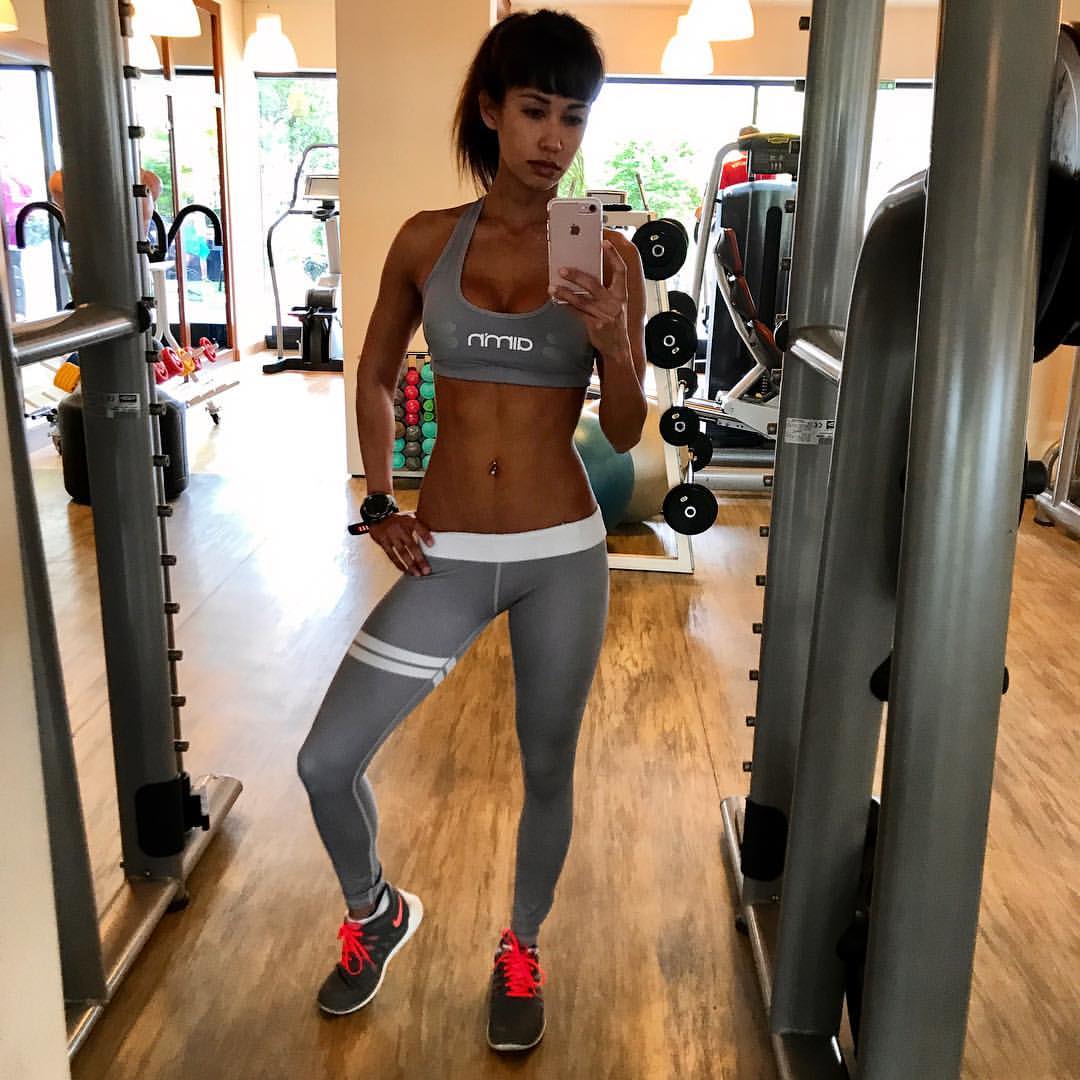 Wearing the outside of the water – whilst working out in the gym.
Pros
A large face makes it easy to see underwater. It took a while to get used to the navigation but then was easy to use. The light button makes it particularly easy to use during night dives, so overall a great interface for viewing in any condition. The OCS works reliably, I've never had a problem with either SCUBA or freediving.
Cons
Modes: Once the OCS hits the water it's impossible to switch modes. If you'd happened to set it to the wrong mode (say, gauge instead of freediving), it's impossible to correct for that dive.
Manufacturing: Beware when purchasing the OCS! The lithium battery that comes with it will not work. The OCS will not wake from it's hibernation. You will need to bring it in to your local Oceanic distributor and have them replace the battery (ordering in a compatible one if they don't have it in stock) for you. This might take several weeks.
Customer Service: Regarding the manufacturing problem with the battery that we'd encountered, we didn't know that we had to take it in to a local Oceanic distributor. At first, we thought the problem was simply that particular dive computer so we went through the trouble of exchanging the item on Amazon which took over almost two weeks with international shipping each way, only to discover the same problem with the second OSC. It was only after contacting Oceanic that we had to contact the local distributor, but no compensation was offered for our trouble. At the very least, an instruction leaflet could have accompanied the OSC inside the box on how to replace the battery!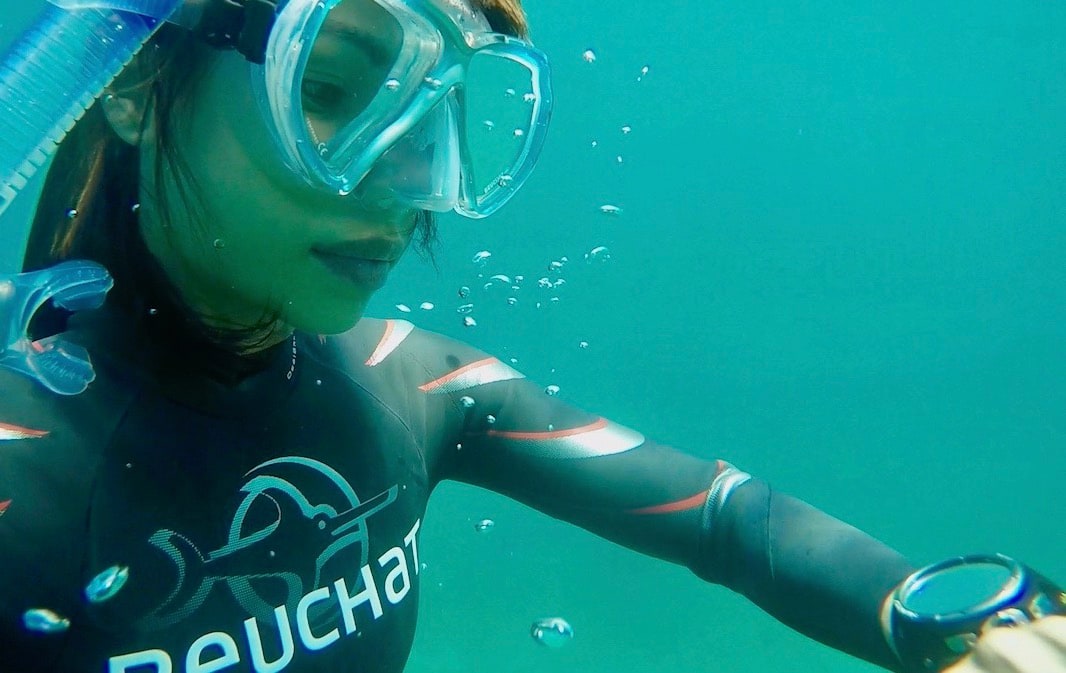 Ascending with a close eye on my OSC at St. Elmo's Bay.
Final Verdict
Would Kristaps have bought this particular dive computer had we known we would have had to go through so much trouble to get it working, given its price per value? Probably not. He probably would have gone for another model and brand. That being said, I'm very happy using it now that it does work, and have had many happy dives with it.