GoPro Hero4 Silver
Review by

Huck
Date:
Last updated:
Kristaps bought me this underwater camera as encouragement to get me started with videography. (Thank you.)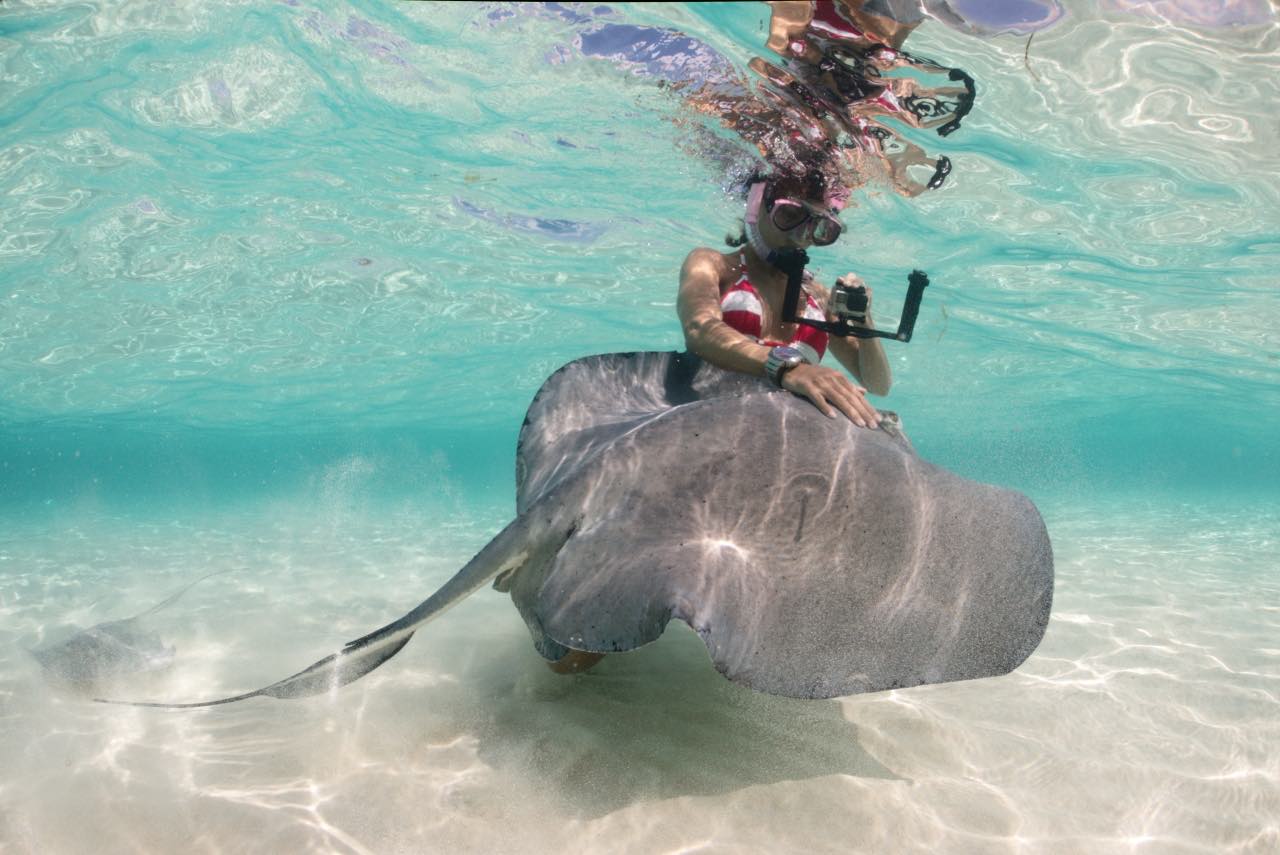 Filming a sting-ray up-close with my GoPro.
Why the GoPro Hero4 Silver? I needed a video camera for SCUBA/freediving with a market for underwater housing and accessories. Kristaps also knew I don't like to dive with a lot of gear so it needed to be light and small, easy to carry. Then it was mostly just a question of price: The Hero5 had just come out and was more expensive than the hero4, but didn't seem to offer much more. Kristaps finally settled on the Silver model because it had a display on the back.
Look
It's cute and sexy at the same time. Cute because cameras really don't get any smaller than GoPros these days. Sexy because it's so minimal, something I really like. The lack of numerous buttons also makes it look very friendly to operate; it's un-intimidating.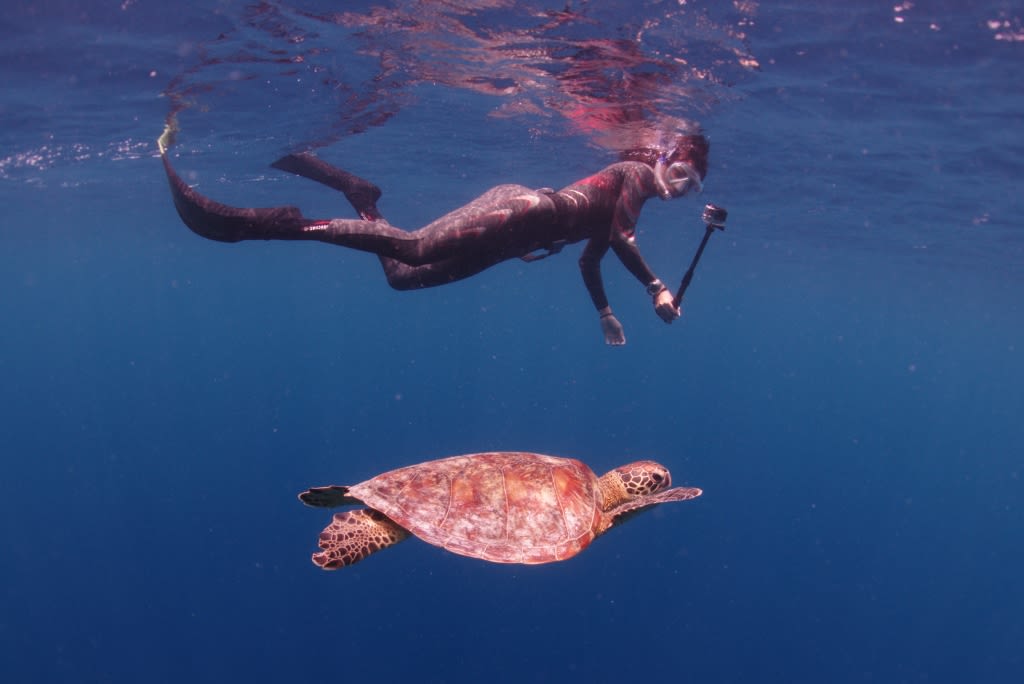 Filming a Green sea Turtle in Raja Ampat with my GoPro on a selfie stick.
Use
You can't compare GoPros to other cameras, they're just completely different. It takes a little while to get used to, and I had to go on YouTube and watch a short video on how to use my GoPro. Once you get the hang of it, it's really easy because there are only three buttons: one of which lets you cycle through the various modes (for example, switching between video or photo mode), one to power on and off your camera, and one to start/stop shooting. All of these buttons are accessible through the underwater housing.
Settings
Without the underwater housing, you can use the touch screen to access various settings, such as whether or not you want to shoot in 4K or 1080p. I found that for underwater photos, I also shoot in wide frame, raw mode, and 1080p.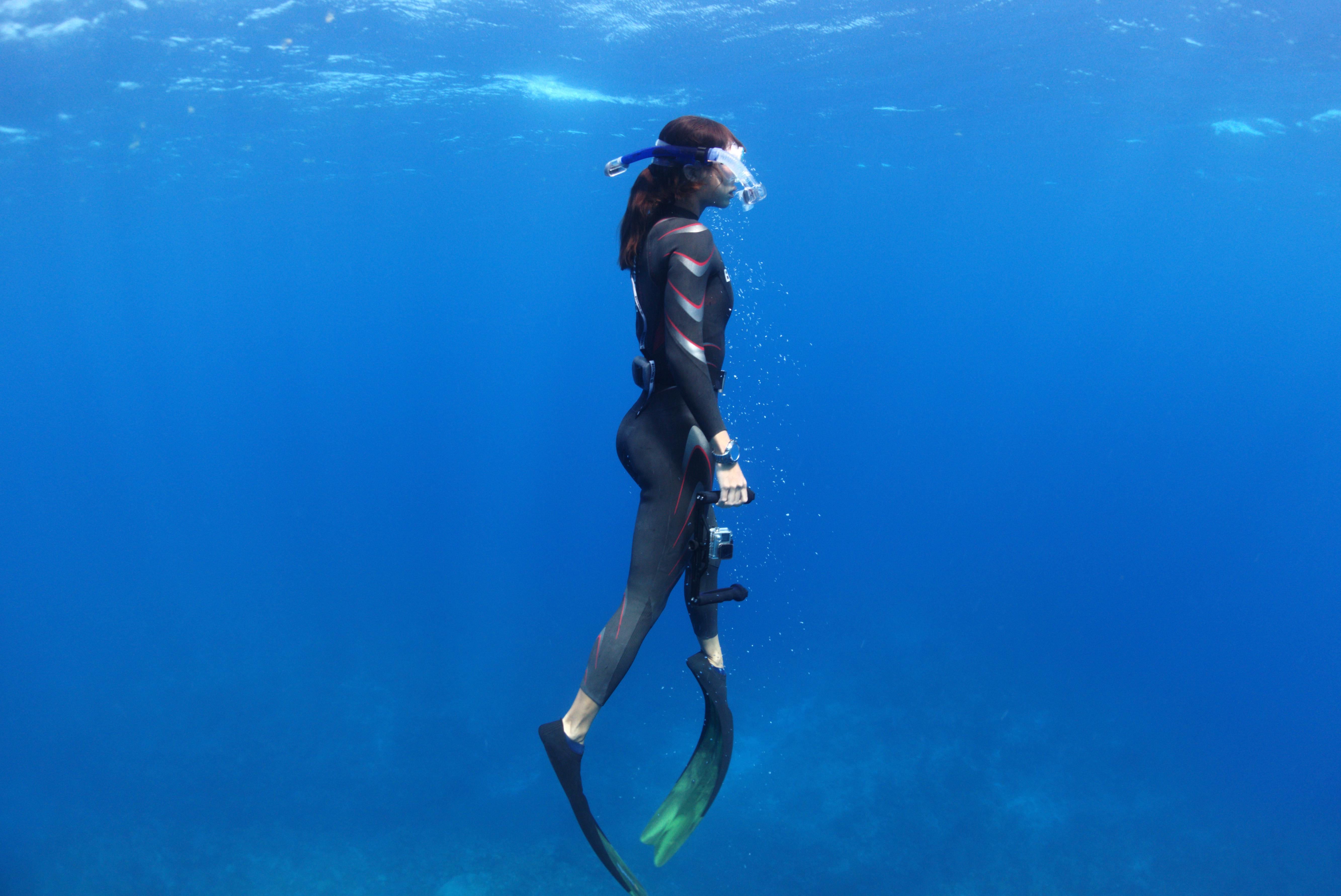 Ascending after a longer freedive with my GoPro in hand.
Accessories
An underwater housing is a must. I started off with an underwater "selfie stick" but switched to a two-handed tray for more stability. A red-light filter made a big difference in the colour of my videos at any depth under 5m. I'll definitely be getting video lights soon for better quality lighting.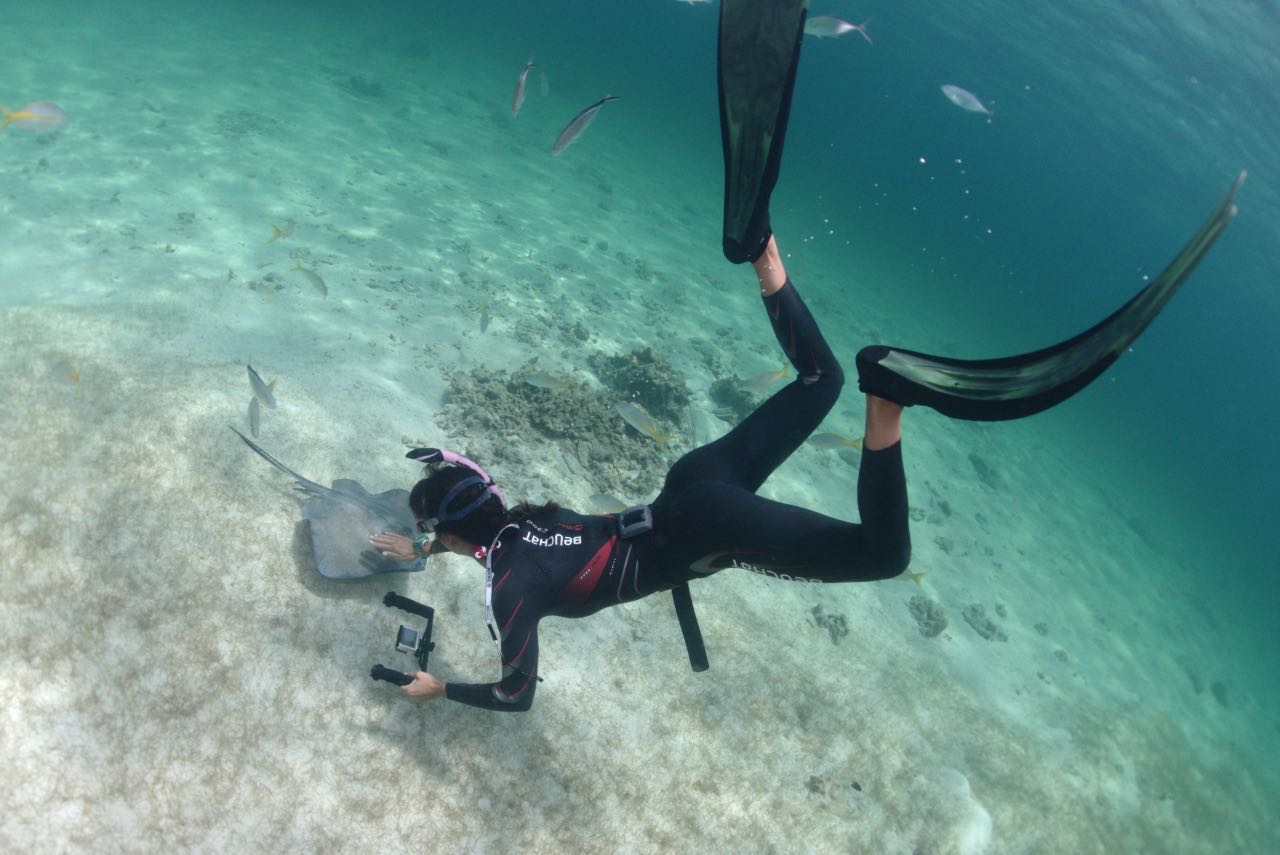 Having a two-handled tray means being able to pat a sting ray with one hand whilst holding onto the GoPro with the other.
Editor
I took few days and a full YouTube tutorial on GoPro Studio, GoPro's free video editing software. Although easy to learn and very intuitive, it's very basic and somewhat buggy. After a few months I became frustrated with the tool and decided to move on to learn something new, like iMovie.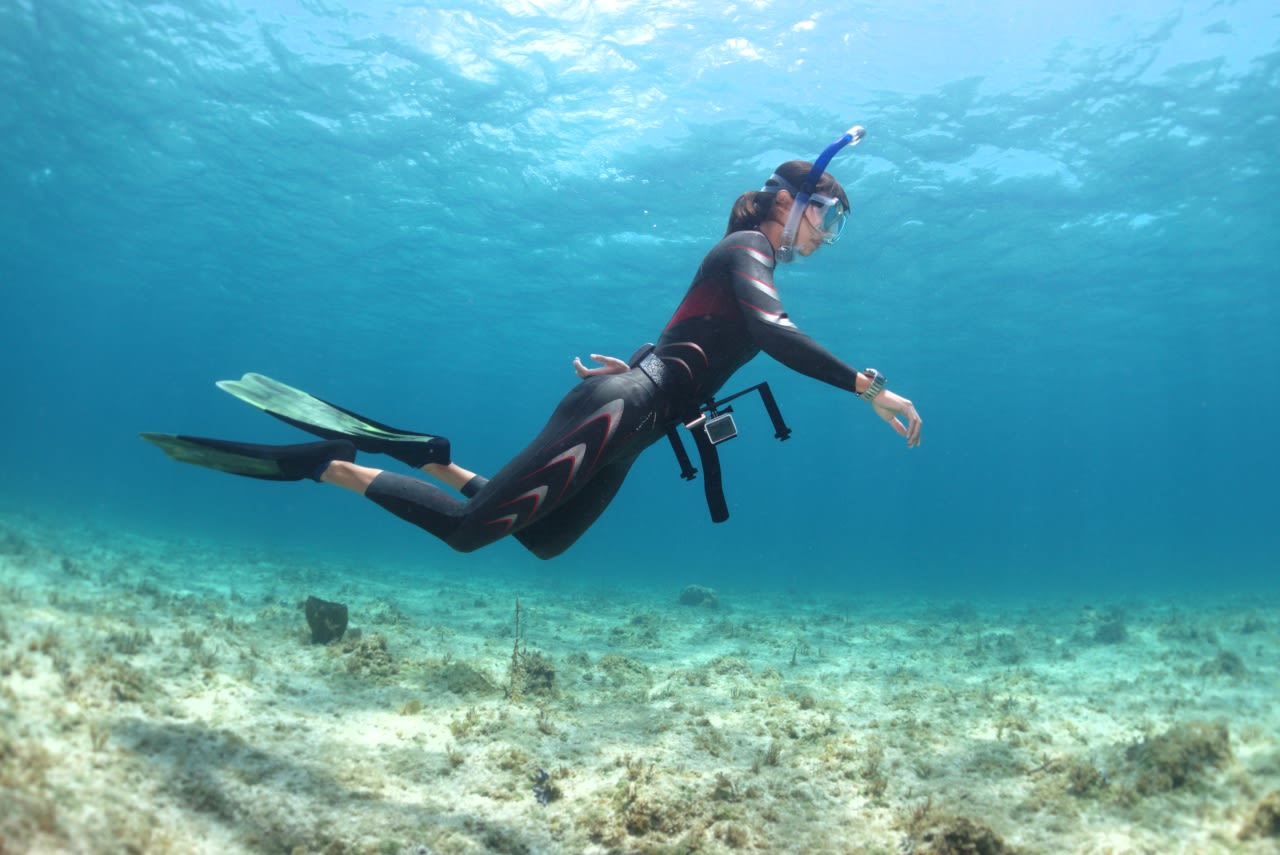 Conveniently freediving with my GoPro tucked into my weight belt.
Pros
The GoPro has served me wonderfully underwater. I've used it once above-water to film my dog, and that was about it. Most of the time I'll freedive with it tucked neatly into my weight belt, and when I see something worth taking a video of, like a Nurse shark in the Cayman Islands, I'll whip it out and start shooting. (I always keep it on in video mode as soon as I begin a dive, I never take photos. If I want to extract a photo from a video, I'll do it later using my video editing software.) It's small, light, easy to use and easy to assemble. Once I got the hang of it and understood more about which settings and accessories to use for underwater shooting, the quality of my videos improved.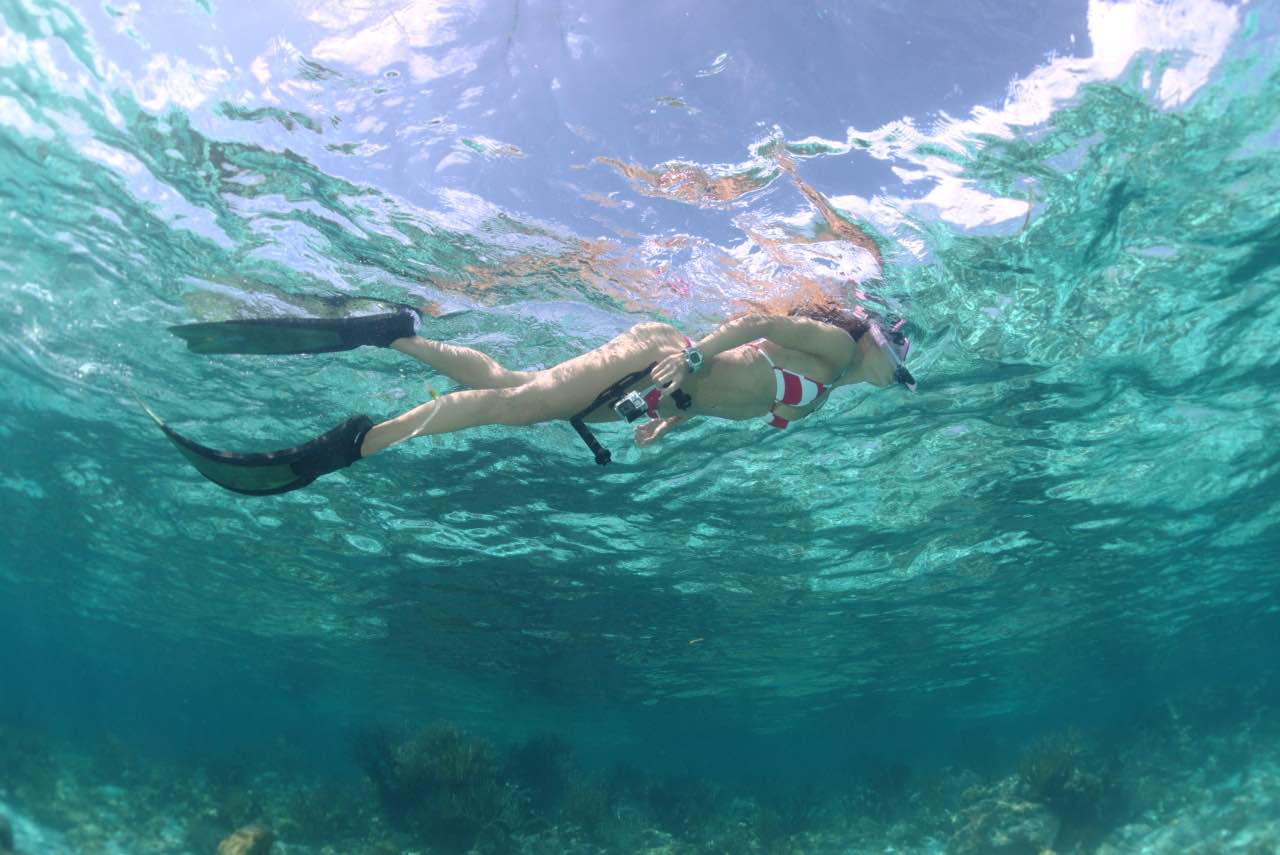 The lightness of the GoPro makes snorkelling or surface intervals between freedives very easy.
Cons
Battery life: The battery life sucks. I believe this is the case with all GoPros models. If you keep it fully powered off in order to conserve battery, it takes a full 3 seconds of holding the power button down to turn it back on. I don't have time for that when I suddenly see something interesting and want to start shooting immediately, so I keep it powered on and alas, my battery drains away.
Display turns off: When filming, the back display turns off after about 15 seconds, so you have to press the "highlight" button to turn it back on or you're shooting without seeing what's in the display.
Ambiguous shooting: The only way you know that you're filming is that a timer is going off next to the actual time on the display, and sometimes it's very confusing to know whether or not you are filming. I've ended up with many long videos of myself just hanging out on the surface doing nothing and then no videos of myself freediving – the inverse of what I wanted, for this exact reason, where I thought I was filming when I wasn't and I ended up filming when I didn't mean to.
Video Quality: At the end of the day, a GoPro will only get you so far in terms of video quality, especially underwater. If you want a really good video, you're better off investing in a Sony RX100 IV or something better.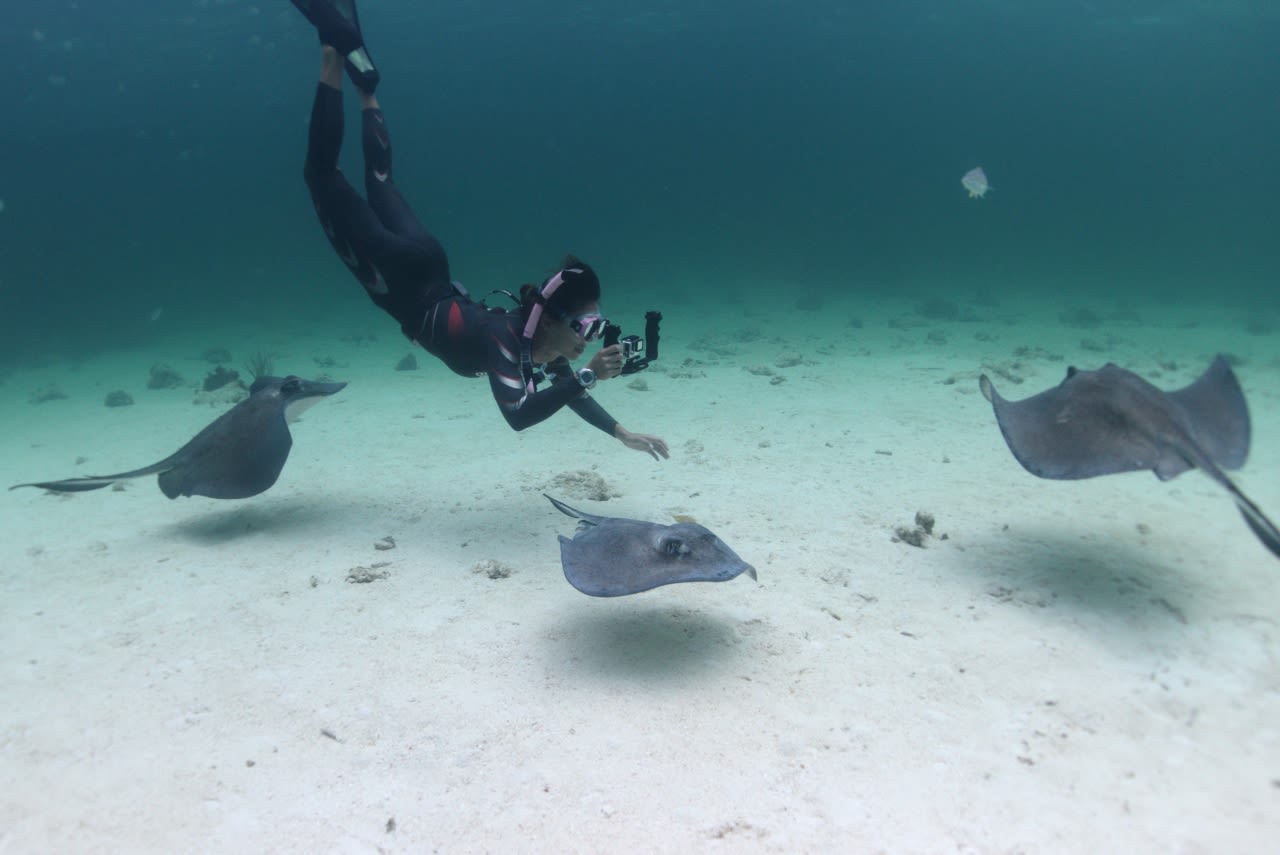 One of my best moments with the GoPro at Sting Ray City Deep.
Final Verdict
The GoPro has been very useful and I'm very satisfied with the utility it's brought me so far – an introduction into underwater videography. I'd give it a while longer, especially a try with video lights and a better video editing software, before considering an upgrade.