Cressi Free Women's 3.5mm
Review by

Huck
Date:
Last updated:
Cressi Free Women's 3.5mm
Huck
To date, I've been using my 5mm two-piece Beuchat Athena for water temperatures below 25'C, and my 4/3/2mm triathlon Beuchat Crawl C500 for water temperatures above. However, with the latter having only lasted me a year and starting to fall to pieces from (good) use, it was time to get a new wetsuit. I'd noticed that I actually often felt cold wearing a 4/3/2mm wetsuit in anything under 29'C, so decided that my next wetsuit should be a little warmer.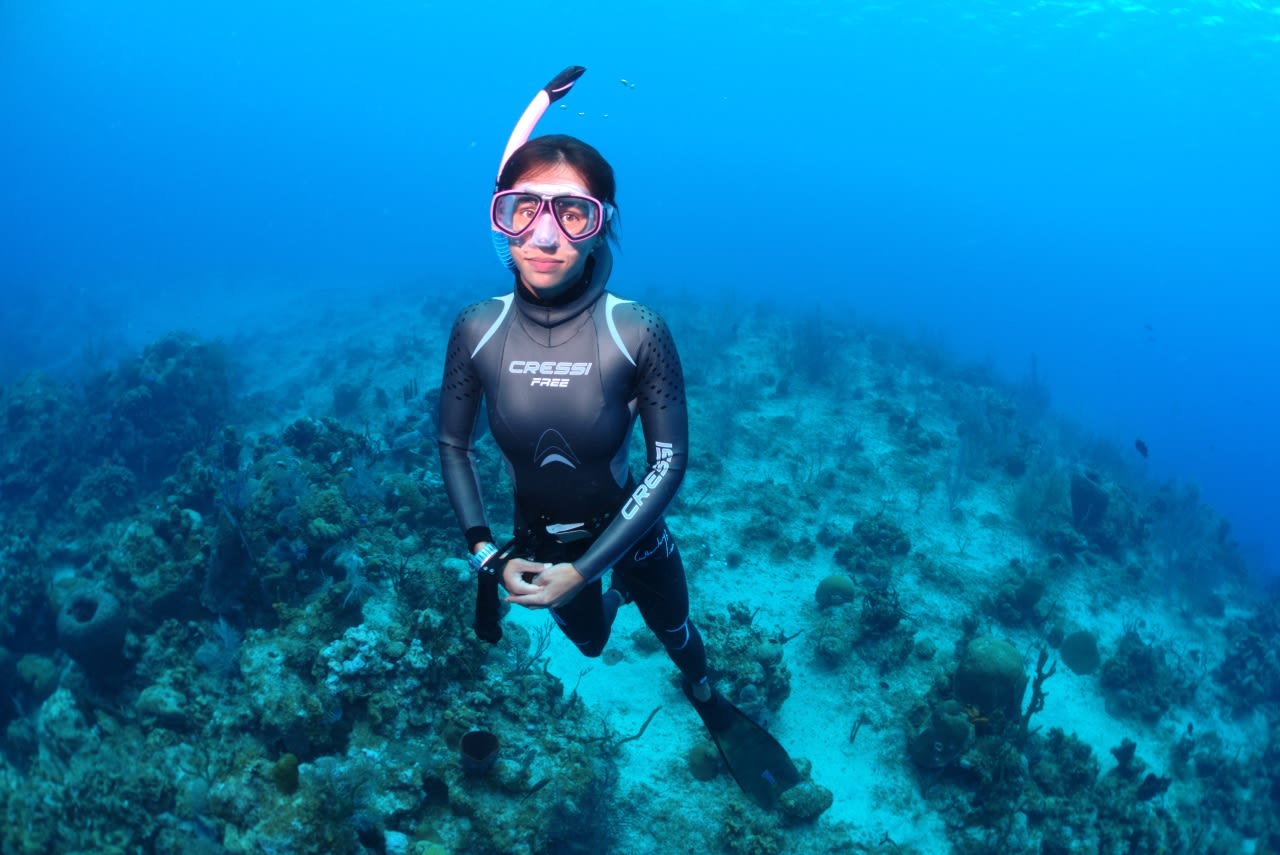 Peacefully ascending in my new wetsuit.
Why a freediving wetsuit?
A freediving wetsuit is arguably warmer than a triathlon wetsuit because it's two-piece. Two-piece means twice the neoprene over your core, and no zippers provides less flushing of water and loss of heat. Freediving wetsuits also have built-in hoods, which offer extra warmth.
The Cressi Free 3.5mm women's 2-piece is Cressi's high-end freediving wetsuit, specifically made for women. (Admittedly, I chose this one because it looked the nicest of all the women's freediving wetsuits I saw online.) Turned out to be a high-quality, albeit fragile, wetsuit in the end.
Look
Cressi got their design right with this one: with their highly-touted specialised neoprene, tapered cut of their wetsuit (high-waisted pants and hooded jacket), and even their discrete Velcro straps – everything about this wetsuit says modern, cool, and sporty-chic. Then there's the colour: there's something about that burnished grey that's just so… sleek. The printed signature of the freediver who supposedly designed this wetsuit along with her maximum depth gives the wetsuit that unique, "special-edition" finish.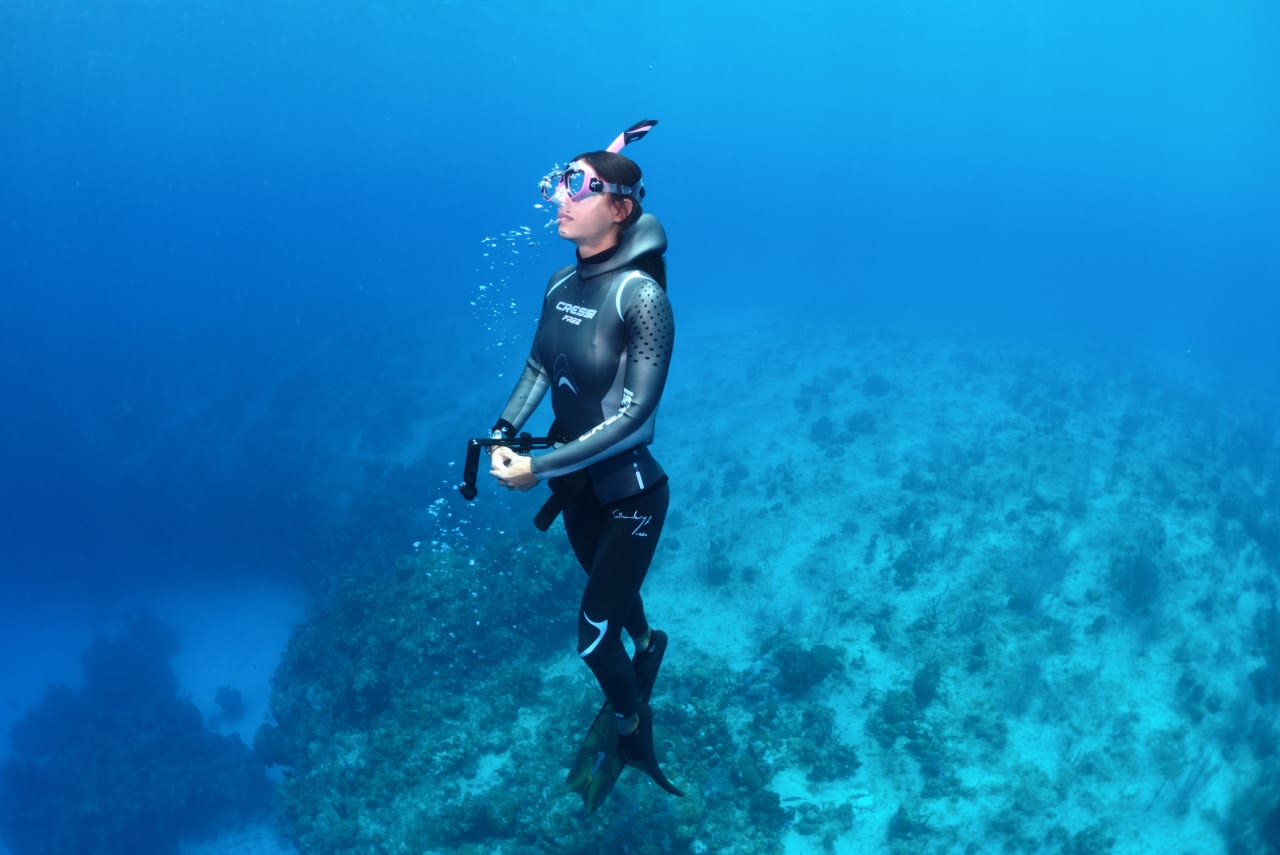 Ascending, hood-off, view from the side.
Fit
I wanted a wetsuit that would be tight enough to fit snugly, without restricting mobility. (A tough compromise.) As a petite woman, I find that most suits are baggy on me around the waist and hips, and often too loose around the neck and wrist seals.
The Cressi Free model comes in 4 sizes – size 1 to 4. Without a large range of sizes, I was worried that even the smallest size would be too large for me. I was wrong, it fit just fine. In fact, it fits so snugly I need help taking it off over my shoulder blades.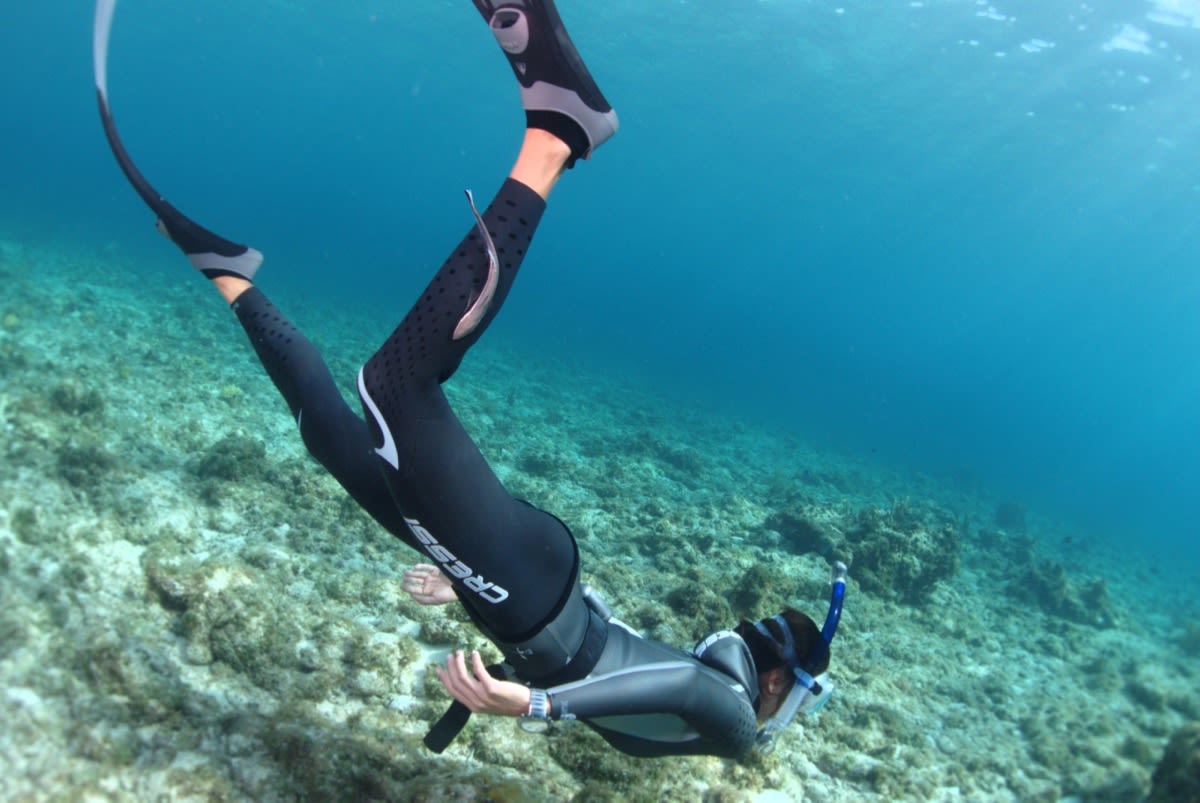 A well-fitting suit keeps the pilot fish… sticking to you!
Use
I've only had the chance to test it out in Caribbean waters so far, so in the 28'C temperature range. But it's kept me comfortably warm during both free and SCUBA dives, even on multi-dives with long surface-intervals. I'm happy to note it does not restrict mobility, despite its snugness, and the hood provides ample warmth without feeling claustrophobic. Hooray! The bane of my (diving) existence resolved.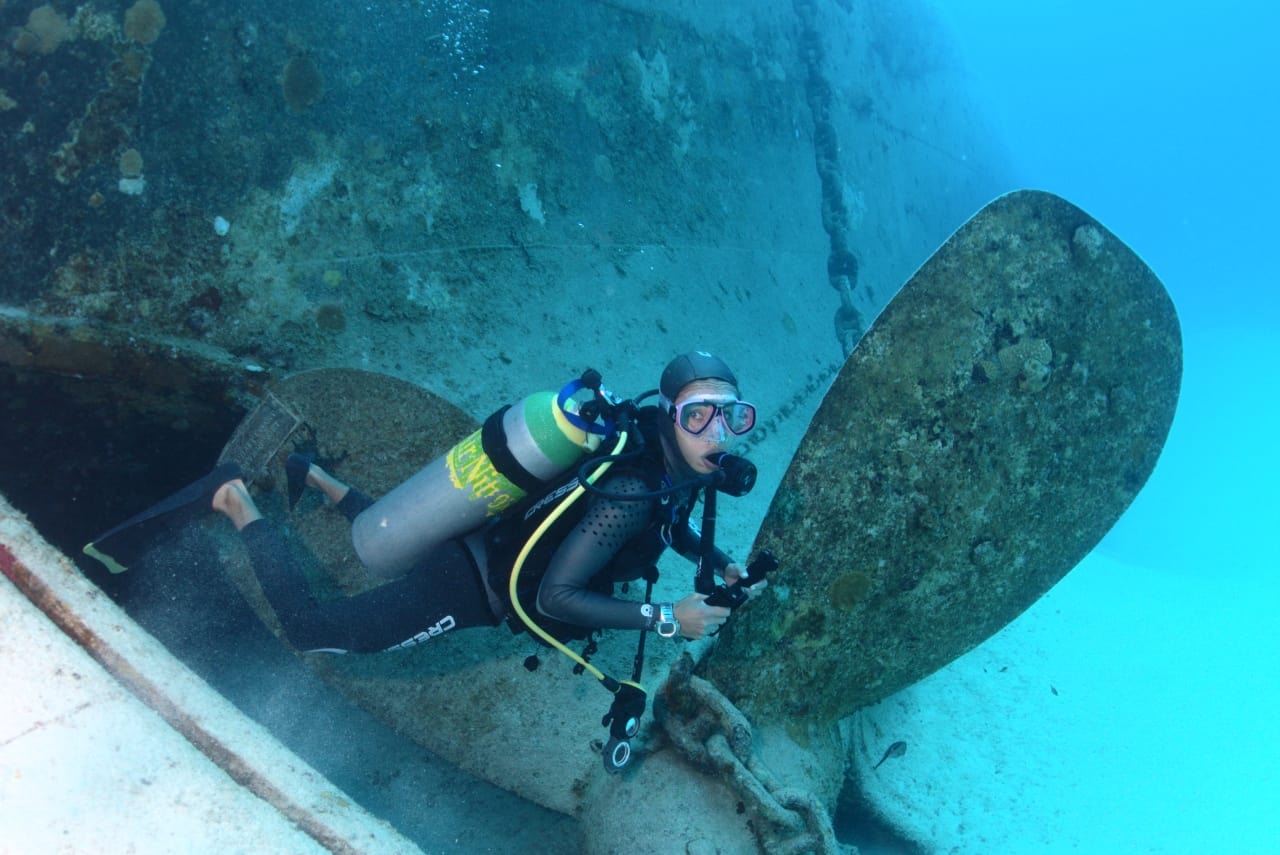 SCUBA diving with my suit, hood on.
Pros
It's warm! As a 3.5mm two-piece, it's probably the warmest freediving wetsuit on the market (most are 3mm or 2mm).
It's not as warm as an open-cell but at least you don't have to lube it up to get into it, so it's much more practical.

It looks really nice: with a great design, flattering cut, and cool colour, it certainly is unique.
It fits really well, without restricting mobility
It compresses at depth, so works well for freediving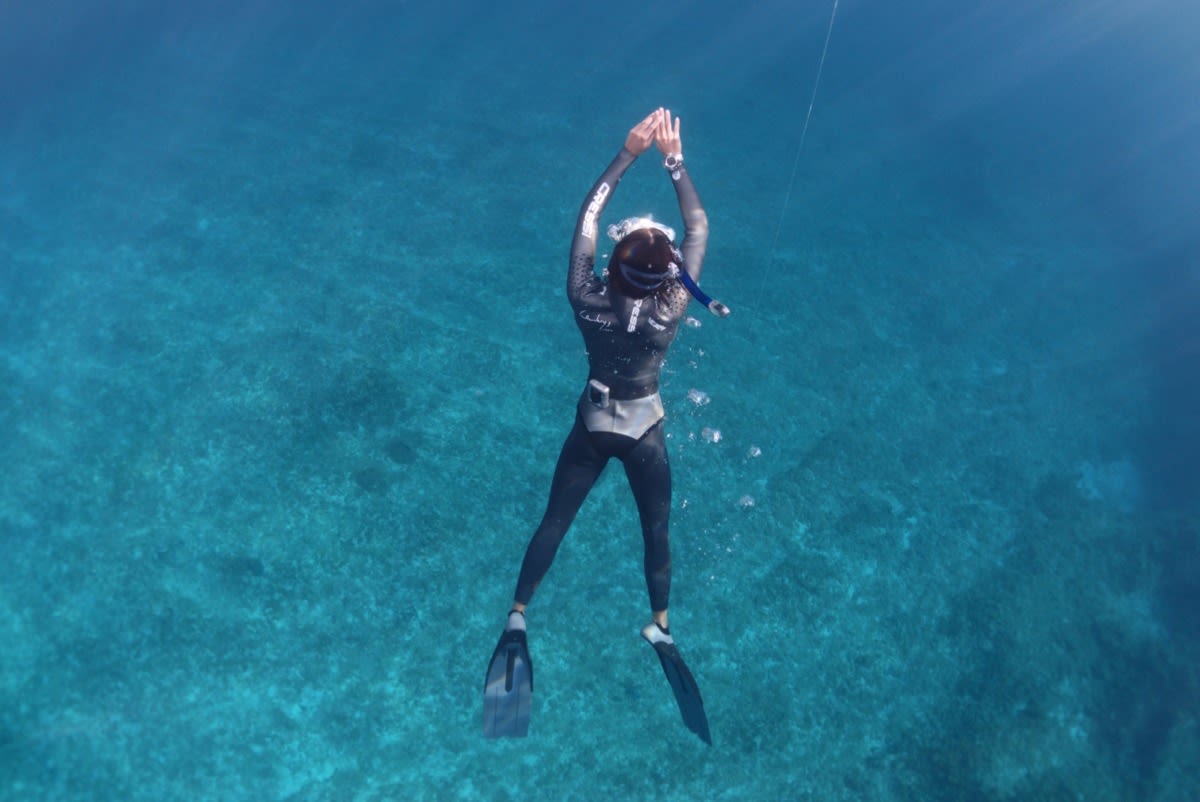 Ascending, view from behind.
Cons
It's expensive: perhaps the most expensive freediving wetsuit on the market
It's fragile – pulling it on and off, it scallops easily. You need to make sure your nails are cut really short and even then you might still rip into your wetsuit!
Without a back-zip, it's hard to pull the jack on and off. I need someone to help me especially with the pulling it off part.
It doesn't dry as quickly as the triathlon wetsuit.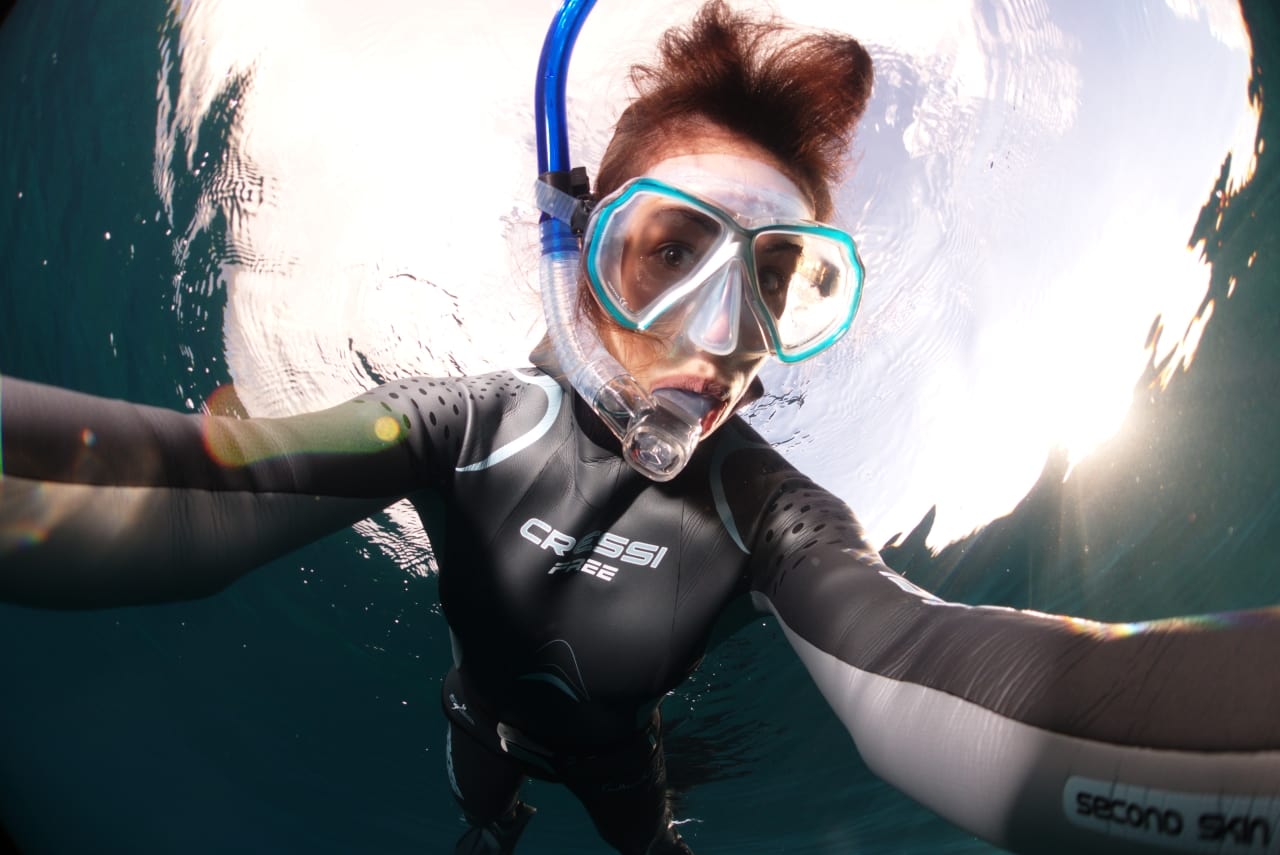 Underwater selfie in my new suit.
Final Verdict
Overall, I'm very pleased with this wetsuit and have already made good use of it in just the few dives I've had so far. The biggest difference it's made is in how comfortable I've been in being able to go for 2-hour long freediving sessions without getting cold, whereas before I'd get cold after just 45 minutes in my triathlon wetsuit. It's nice knowing I can always just pop on my hood for extra warmth when I need it too. Whether or not this wetsuit will be worth its price depends on how long it lasts – I'm a bit worried since it's already starting to scallop with every time I pull it on and off.