Beuchat Men's Crawl C500
Kristaps
Once the water hit twenty or so degrees, my Beuchat Espadon Equipe started to feel a little over-warm. With both this in mind and a number of future trips in warmer waters, I set out to find a temperate suit for diving.
I specifically chose a one-piece, non-open-cell to avoid the overhead of lubing up the suit before diving. Some up-coming diving adventure of ours will require speedy access to our kit, so the time to lube is not available.
The result? The Crawl C500.
Getting ready at St Elmo's Bay.
Why?
I wanted a tight suit with lots of mobility in the shoulders. I find that most suits, for my shoulder size, restrict the ability to put my arms overhead without flooding the neck seal. The C500, as tried at the store, keeps its seal.
The tightness is important: non-custom suits tend to sag in the belly a bit. Perhaps French divers are bit more… trim?
But the more significant "why" was one of practicality: we have a Beuchat store right nearby where we can try on suits before buying. This is invaluable!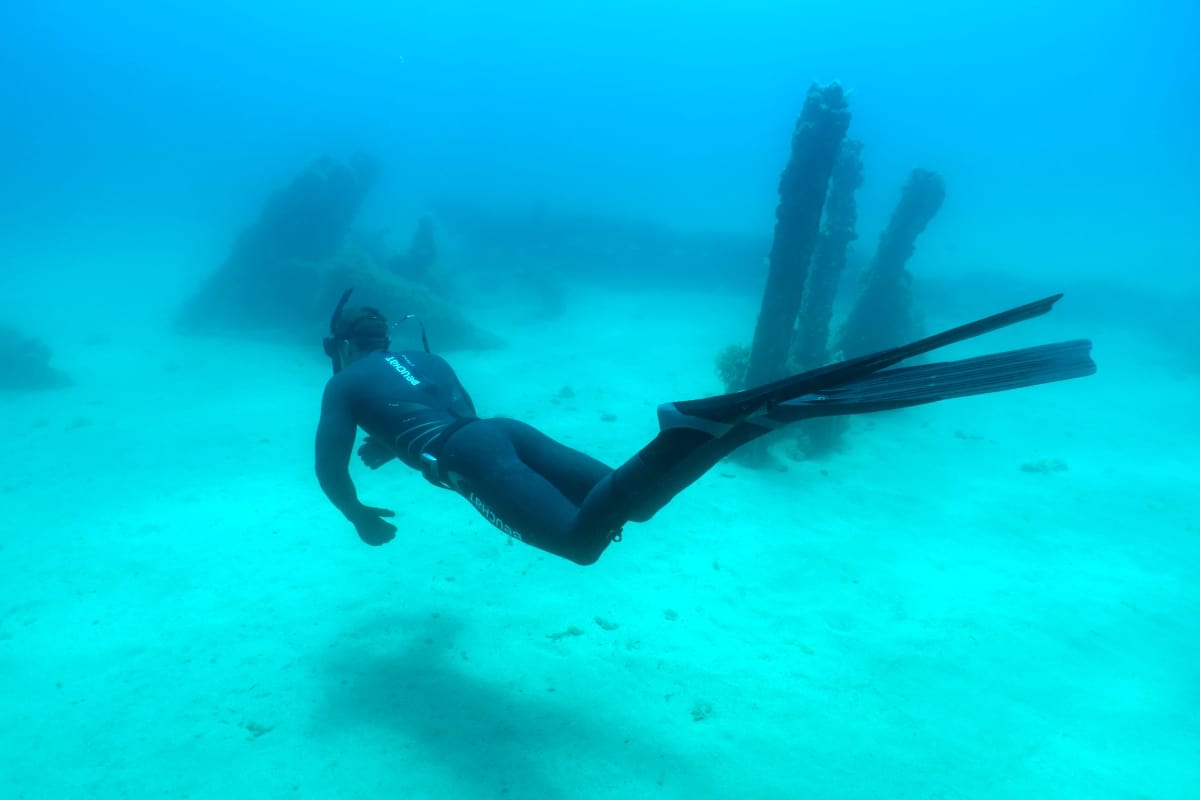 Hanging out by the HMS Maori.
So far, the suit has served well in waters in the 20–24° range. In the former, I was able to stay for about 45 minutes before the shivers started to affect my bottom time. In the latter, at least an hour—when I did leave the water, it wasn't due to cold.
What else do I like about this wetsuit? Unlike my Espadon, it doesn't compress so strongly, so the change in buoyancy is very gentle. I can even use the suit without weights at all, reaching neutral buoyancy at around 14 metres. But that will happen with most any suit of 3 mm or less.
Diving in the Cayman Islands.
What do I not like? Well, like with all Beuchat products, they seem to be a bit… overzealous in branding the suit with the company name. This is a bit tacky. But that's not about really about the suit. I would complain about the lack of a hood, but as the temperature rises, the hood would feel constrictive. (And hoods and one-pieces would mean a front-zip, which are generally more difficult to kit up.)
So far, I have nothing to complain about. Win!