divelog·blue

Kristaps Dzonsons
In a departure from the usual recreational or technical dive, Kristaps practised multi-stage (a stage being a gas cylinder) rigging by being a (secondary) support diver. A support diver holds extra gas for those doing deep (or long, I guess) dives and takes used tanks as well. The subject of support was somebody performing an 80 metre trimix qualifying dive.
The primary supporting diver was Lee from Divewise, who also took the photos of Kristaps. Our main model is the beautiful Steve, also of Divewise, acting as instructor to the anonymous qualifying diver.
Acting in a (secondary) support role is a great way to get comfortable with handling multiple stages. This mostly involves clipping tanks to one's harness. Lots of clipping. This is more difficult than it sounds because one can't see where one's clipping, which can result in clipping tanks to each other instead of to the harness. Not a problem unless one needs to quickly unclip one of the spare tanks to give to an out-of-air diver! Lee, beyond taking some great pictures, spent a lot of time covering the order of tanks and how to clip in given different rigging styles. There's still lots to learn before doing our own trimix dives!
Given that this was a working dive, we didn't dabble over marine life. But we did spot a lot of Mediterranean jellyfish (Cotylorhiza tuberculata) in the water, which we don't see much on the main Maltese island.
image gallery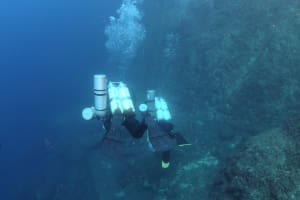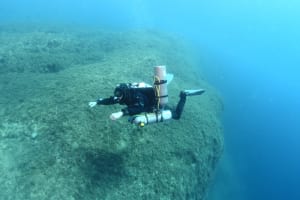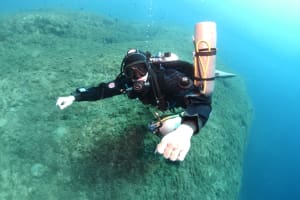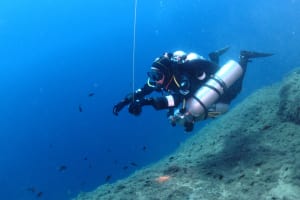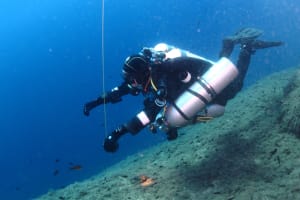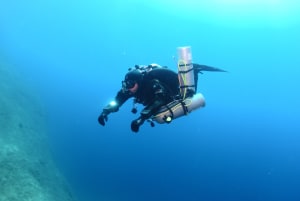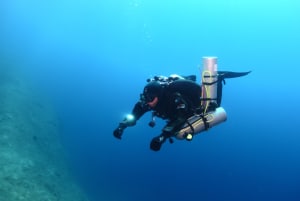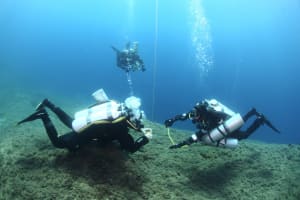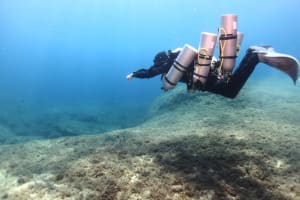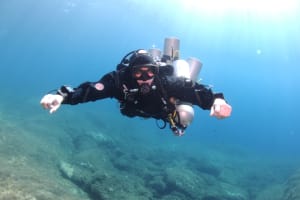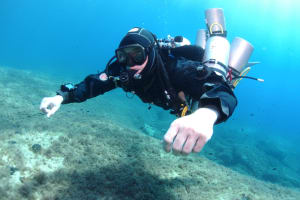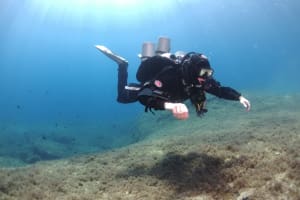 Marine life in this article: Mediterranean jellyfish.
If you'd like print-quality versions of any image, please contact Kristaps with your request. Except where otherwise noted, content on this page is licensed under a Creative Commons Attribution 4.0 International license. Attribution should be to divelog·blue with a link to divelog.blue.