divelog·blue

Kristaps Dzonsons
A few days ago, I had the privilege of diving with Michael and Aaron , both of whom were in the process of filming a Malta freediving documentary.
As part of the film, they had me freedive the HMS Maori a dozen or so times while on camera. This differed from the usual dive profile: instead of focussing on marine life or the wreck itself, the focus was on… the appearance of focussing. For example, where I'd usually fin down to the hull and wedge myself into a strategic place, waiting for the marine life to find me and taking pictures that way, I was instead constantly in motion for the camera. This is much better for being the subject of a video; but if I were holding a camera myself, the fish (my subjects) would probably avoid me.
Although the weather conditions were far from ideal (overcast and a bit choppy), and we only had a little bit of time, the pictures and video (forthcoming!) came out well. Unlike the photos taken with our usual Sony RX100M4, Aaron used a Canon 7D Mark II with the Nauticam housing and Tokina 10–17 mm wide-angle fish-eye. Michael had a Sony A6000. The extra firepower really shows in how the cameras handle the low-light conditions at depth—however, both Michael and Aaron sternly informed me that a camera is only as good as its operator. I agree!
Despite my somewhat short bottom times, I really enjoyed going through the ship over and over—it's quite a different way of thinking about diving. Still, I prefer slothing my way along, conserving energy for long bottom times and letting the marine life adjust gently to my slow presence. (The photographic results did motivate me to take better care of my white balance at depth!)
Thanks Michael and Aaron , and we hope to see you again soon in our fair Malta!
image gallery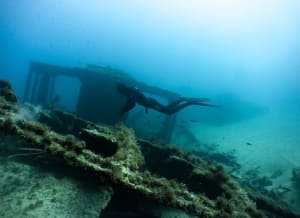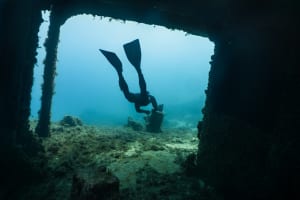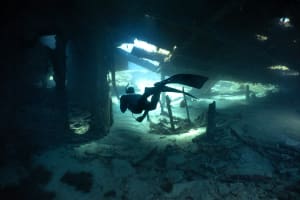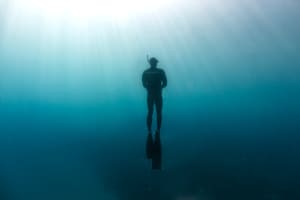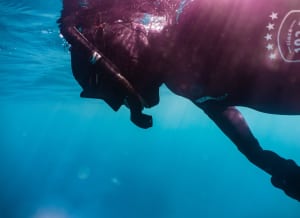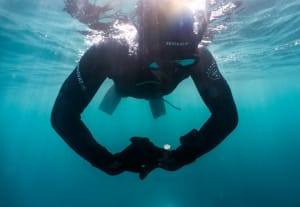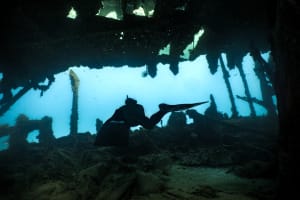 Marine life in this article: .
If you'd like print-quality versions of any image, please contact Kristaps with your request. Except where otherwise noted, content on this page is licensed under a Creative Commons Attribution 4.0 International license. Attribution should be to divelog·blue with a link to divelog.blue.
gear used
HW OSTC 2C
None reviewed.